We all love our camping gadgets and gizmos - everything from portable power stations to solar showers - but the most versatile tool for vanlife in 2022 is something we all carry in our pockets everyday: the trusty smartphone.
From finding the best free campsites to discovering the most interesting roads to get you there, the right collection of apps on your phone can save you time, money and a lot of headaches on the road!
So without further ado, here's our roundup of the very best apps for vanlife in 2022, alongside some pro-tips for how to get the most out of them.
Overview:
What is the best app for finding dispersed campsites?
Our pick goes to iOverlander, a non-profit app which croudsources campsite data to show you a comprehensive list of both developed and wild camping spots. As of September 2022, there's a whopping 36K entries for the USA alone.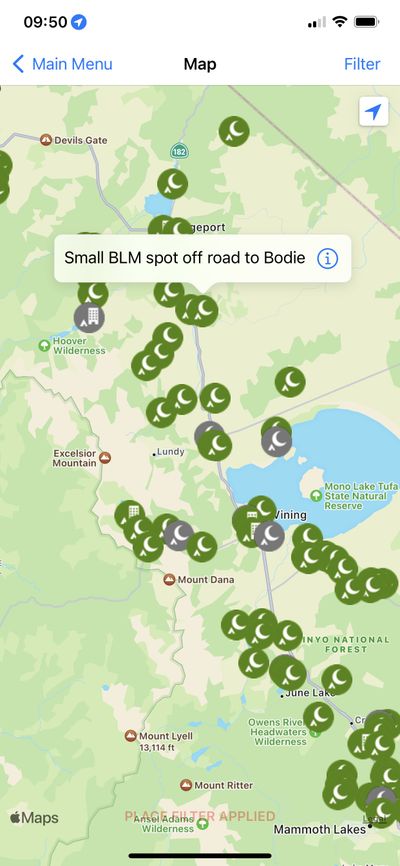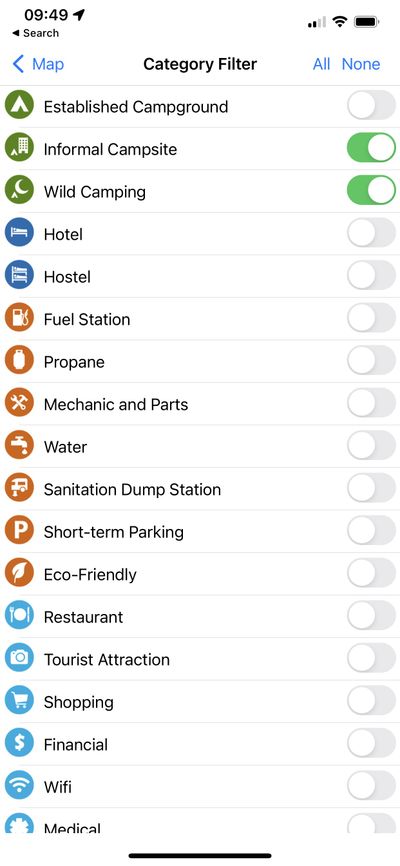 One of the best features of iOverlander are the simple filters which let you customize the map view to your liking. Not only are there different types of campsites to filter, but other resources like gas stations and water fillups are shown too.
Hats off to the iOverlander team for providing such an excellent resource to the community for free.
Honorable mentions:
There are no shortage of apps and websites geared to help you find campsites or free places to stay. Depending on the type of camping you like to do, some are better than others. Here are some of the most popular ones:
What is the best app for finding private campsites to stay at?
Definitely Hipcamp - an Airbnb-style app to help you find private camping spots and glamping options, many of which are RV and campervan friendly.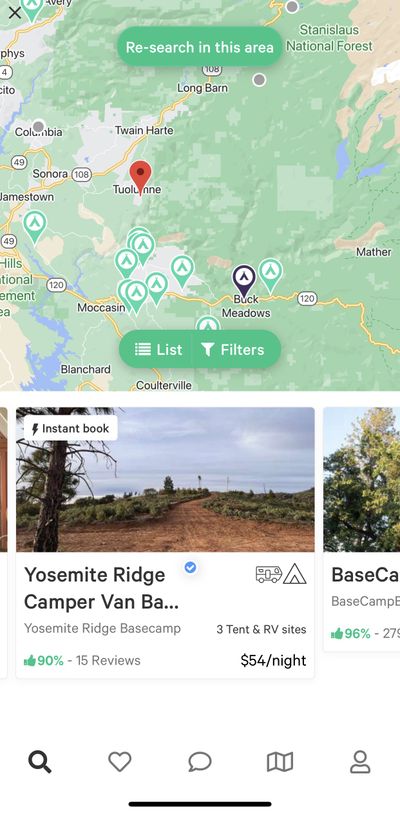 Hipcamp allows land owners to rent out spots for camping, many of which are campervan friendly. It's a great resource to complement public campsites and bookdocking.
We find Hipcamp to be useful in a number of situations. Firstly, if you want more privacy, then it's possible to book spots with a lot of land to yourself. Think acres, not square feet!
Secondly, the option to guarantee a reservation for the night is really useful. Many public campgrounds are first come first served - and the last thing you want after a big driving day is to be searching into the night for a place to sleep (which, believe us, happens more often than you'd like).
Lastly, Hipcamp also recently added the option to overlay public campsites on their map of places to stay. Whilst you can't book these sites through Hipcamp, it's still a really good way to get the lay of the land when planning your route and accommodation options.
What is the best app for showing cell phone coverage?
This one goes to Freeroam, another non-profit organization. Not only is Freeroam a great option for discovering free campsites, but they also overlay cell phone coverage and BLM land boundaries in the app too. Most apps charge for this as a feature so extra kudos to Freeroam for providing such a great resource to the community for free.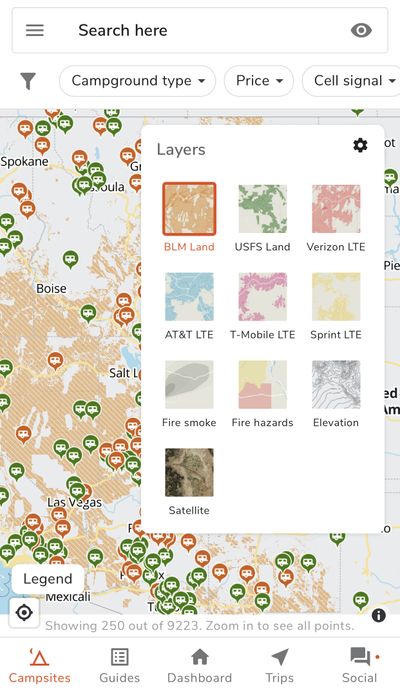 Freeroam is another free app which shows you campsites to stay at. But our favorite feature is being able to view cell phone coverage and BLM land boundaries on the map - excellent for finding dispersed camping options with Internet.
Honorable mentions:
What is the best app for showing BLM campgrounds and camping areas?
The USFS & BLM Campgrounds (iPhone only) app shows over 5,650 United States Forest Service (USFS) and Bureau of Land Management (BLM) campgrounds throughout the USA.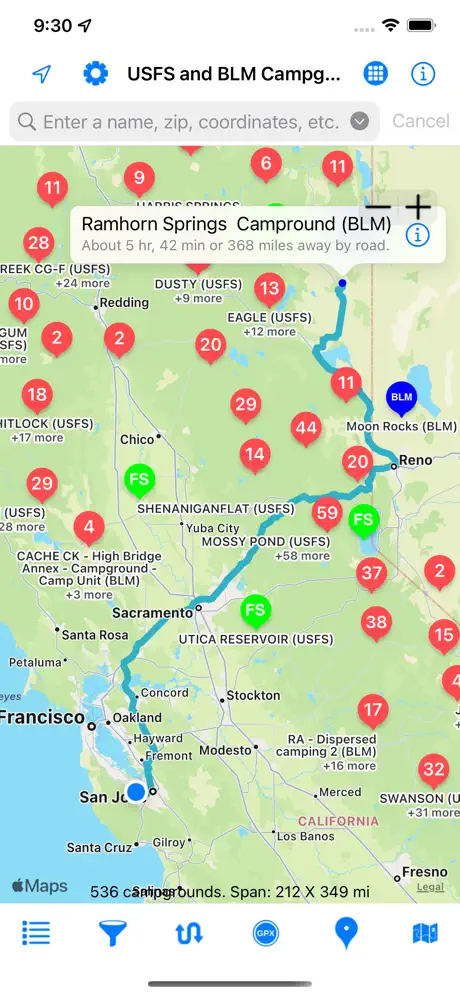 The best thing about these types of campgrounds is they tend to be low cost or free. We haven't used this one ourselves but it seems like a solid option for people who spend a lot of time out in BLM land.
What is the best free offline map app for navigation and hiking?
There are no shortage of apps to help with navigation, but having tested almost all of the options available, we feel that OSMAnd Maps is still the best free offline navigation app for most people.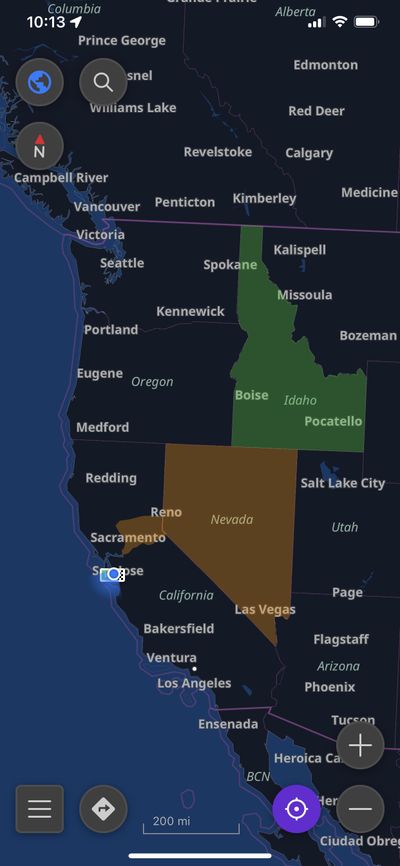 OSMAnd Maps is an offline-first navigation app. You get 5 offline maps for free, but these can be as large as an entire state.
The main benefit of OSMAnd Maps over mainstream navigation apps like Google Maps, Apple Maps and Waze is that it's an offline-first solution with highly detailed maps. These maps are better designed for more remote areas where you're often without cell phone signal.
Another great feature of OSMAnd Maps is that it supports importing GPX tracks and navigating them turn by turn. This means you can import GPX tracks from your favorite hiking app and navigate them on your phone - a feature almost every other hiking app out there charges a premium subscription for.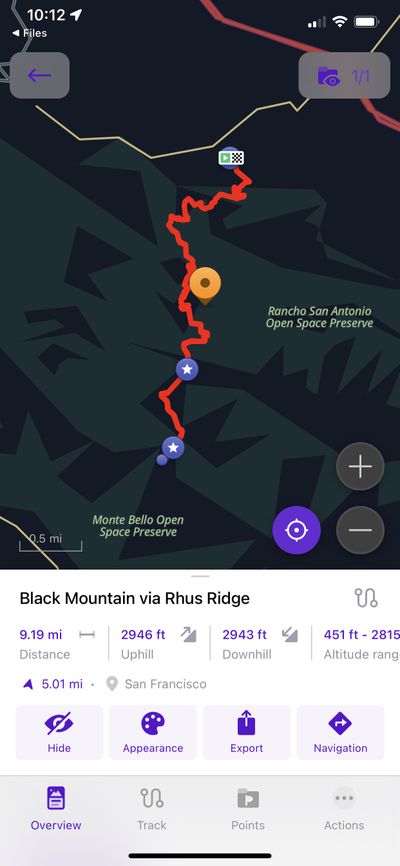 OSMAnd Maps supports importing GPX files, which are waypoints for navigation. This works really well with AllTrails which allows you to export GPX files for hikes which can be loaded into OSMAnd Maps - all for free!
Much like iOverlander, OSMAnd Maps has overlays to toggle things like campsites, gas stations and other POIs - which, by design, all work offline. However, the datasets used by these apps are different - whereas iOverlander is mostly crowdsourced, OSMAnd Maps uses Open Street Map behind the scenes. Combine the two apps and you've got a lot of bases covered.
Pro tip:
OSMAnd Maps when paired with a few other apps can be very effective in finding excellent bookdocking spots. Here's a flow which we use quite often:
Honorable mentions:
What is the best app for finding the most scenic route to a destination?
This one goes to Scenic - a different type of navigation app which focuses on getting you to your destination on more interesting roads.
Whilst Scenic is actually a motorcycle navigation app designed to help motorcyclists "find the best routes with the twistiest turns, for paved touring and unpaved adventures", we often use it for van trips too because it's great at putting you on more enjoyable roads (which often have cool camping spots).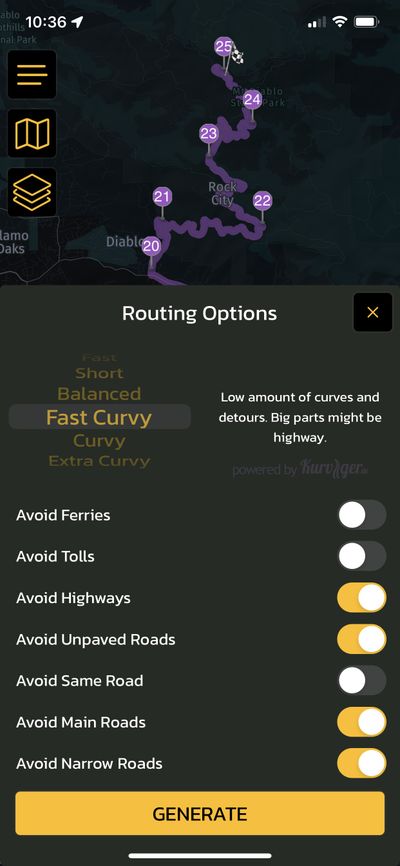 Whilst intended for motorcyclists, Scenic is a great option for finding more interesting roads to drive on. For van trips, try experimenting with: avoid unpaved roads, avoid narrow roads, avoid highways and avoid main roads for some more interesting road trip routes!
What is the best app for showing mountain passes and twisty roads for driving?
Similar to Scenic, Calimoto is another option geared more towards motorcyclists. For vanlife though, it contains two excellent map overlays: mountain passes and twisty highlights. This is a great way to seek out nice roads for driving and inevitably puts you in the places with the nicest views.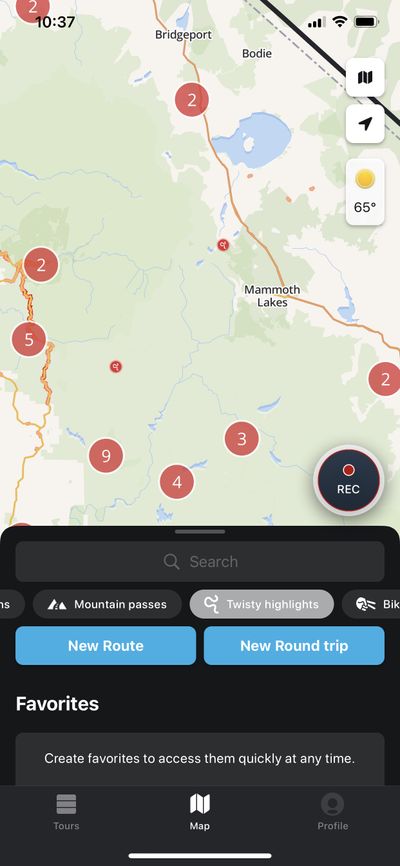 Calimoto allows you to quickly view mountain passes and twisty highlights on a map - great for finding more interesting driving routes in your campervan.
What is the best app for finding hiking and cycling routes?
AllTrails is hands down the best app for discovering the best hiking, running, and biking trails in a specific area. For vanlife, not only this is useful for finding activites to do, but these areas often have the best camping spots too!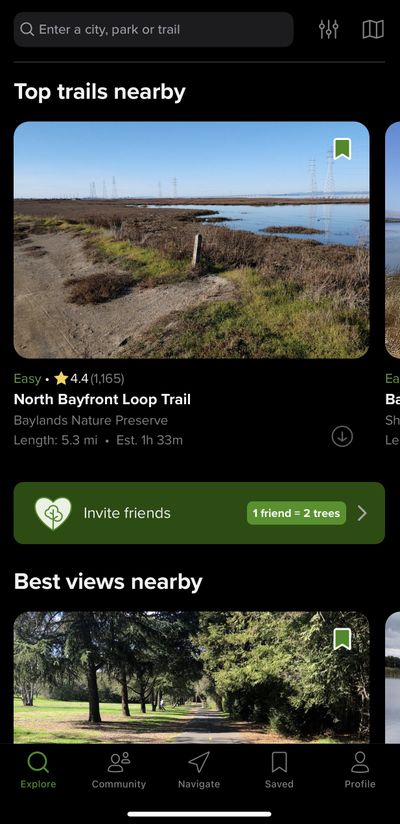 AllTrails lets you discover the best biking, running and biking trails near you. Pro tip: You can export GPX tracks from AllTrails and then use OSMAnd Maps for navigating them offline. All for free!
What is the best app to find campsites at very popular parks like Yosemite or Grand Canyon?
A lesser known tool, Campnab monitors campgrounds for canceled reservations, and notifies you with a camp alert when a campsite opens up. Since many people book campsites months in advance and often end up cancelling them, it's a great way to find top campsites with very minimal effort.
Campnab is not free - but it's well worth considering if you intend to visit some of the popular state parks, especially during busy periods.
Bonus apps
That's all folks - thanks for reading!
This article was produced by the Vancamper team and may not be copied, redistributed or modified without our permission.