Here are the answers to our most frequently asked questions. This information applies to both our website and iPhone/Android apps.
How do I mark my listing as For Sale, Sale Pending or Sold?
If you are using our website, visit your My Listings page. Find your listing and next to Availability, click "Update".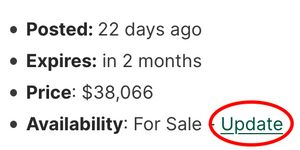 You can now choose between For Sale, Sale Pending or Sold.
If you are using the Android/iPhone app, goto your Listings:

Find your camper for sale and click the '3 dots' icon to the right:

And choose the availability of your camper from the menu which pops up: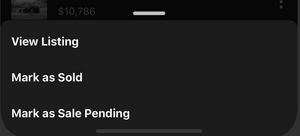 What's the difference between For Sale, Sale Pending or Sold?
For Sale: your listing will appear in all search results and buyers can message you.
Sale Pending: your listing will appear in all search results but new buyers won't be able to message you - although existing ones will. Sale Pending is useful if you're close to selling your camper. Some sellers will also use this option if they've had enough buyers lined up and don't want to receive messages from new buyers.
Sold: your listing will appear last in search results and no new buyers will be able to message you. Sold listings are removed from search results after a short grace period.
How do I send pictures in messages?
Sadly this is not currently possible, but we're looking to add support for it. Cell/e-mail or free file sharing services like Google Photos/Dropbox can be used in the mean time.
How much does it cost to list or use Vancamper?
Nothing! Awesomely, Vancamper is free to use, with no hidden fees or pay walls. That said, for folks that want them, we have some premium features lined up for the future.
How long will my listing stay active for?
Listings stay up for 90 days and then are removed from the site. You can re-post your listing if it expires.
How do I remove my listing from the site?
The easiest way is to mark your listing as sold. We keep listings up for a grace period and then remove them from the site. If you would like to have your listing removed completely please contact us.
What RV types are accepted?
Our focus is on campervans/class B RVs and custom conversions (skoolies, buses, ambulances and so forth).
Cargo/conversion vans with no RV-style amenities are not accepted. Exceptions to this include vehicles which make excellent conversion candidates and have had some build work done (e.g. gutting, insulation, flooring, etc).
I spotted a post/seller which looks like spam/scam. How do I report it?
In the mobile app, there is a 'flag' in the top right corner for the listing. Click this to report the listing. Our team will investigate the matter further.
Do you take a commission for selling my campervan?
No! Not at all. The money from selling your campervan is 100% yours.
Can a buyer pay me online using your website/app?
No, we do not handle the transaction between sellers/buyers.
How many listings can I create?
One listing per campervan. Duplicate listings are not allowed. You can sell as many campervans as you like.
Where can I download your app for iPhone/Android?
Download links: iPhone and Android.
How long does it take to sell my campervan?
There's no magic number here - it depends on so many factors. We recommend viewing our seller's guide for more information.
I cannot upload photos on my iPhone
This is normally a permissions issue. To fix it:
Uninstall Vancamper
Reinstall Vancamper from the App Store
Login > Posts > New
When the permissions dialog appears, click the option highlighted below: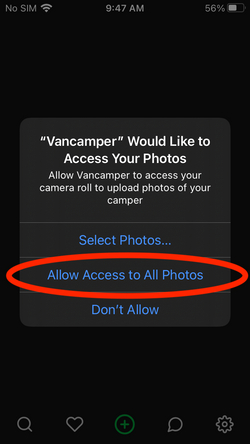 This article was produced by the Vancamper team and may not be copied, redistributed or modified without our express permission.